NYC Votes and our partners are pushing for reforms to state law that will improve our elections and get more New Yorkers voting.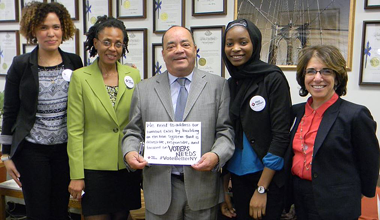 Every year, NYC Votes and its partners travel to Albany to advocate for voting reforms. Last year, we brought 100 concerned citizen volunteers to tell their legislators why voting reform matters to them. Together, we let our legislators know how important it is that New Yorkers have a democracy in which every voter can make their voice heard. It's time we bring our elections into the 21st century.
New York lags behind the vast majority of other states in voter participation. We deserve better elections so that every voter can have a say. NYC Votes and the Vote Better NY coalition are advocating for legislators to support:
Early voting, to make sure that voters have more than one day to get to the polls.
The Voter Empowerment Act, to ensure every eligible citizen is registered to vote and to make it easier to update their voting information.
The Voter Friendly Ballot Act, to create a ballot that is easier to read and understand, so that every voter can cast a ballot that counts.
Stand up for voting rights! Sign the #VoteBetterNY petition now.
Click here for a fact sheet on the #VoteBetterNY agenda.
How to Get Involved
Follow NYCVotes on Facebook and Twitter for updates.
Want to get on the NYCVotes bus to Albany? Sign up below!
Error loading Partial View script (file: ~/Views/MacroPartials/InsertUmbracoForm.cshtml)